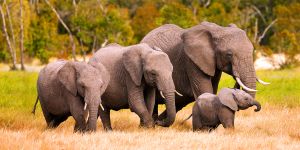 Dear friends,
Yes!! More than
1.2 million people have backed our campaign urging Japan to shut down its ivory market.
That's more than four times the number of elephants slaughtered to fuel Japan's bloody trade.
And now we have a MASSIVE opportunity to say: Not a single one more!
In days, Japanese politicians will attend the world's biggest wildlife summit, where 32 African countries will call on them to ban ivory.
But insiders say Japan needs pressure from all over the world to end the trade.
This is where we come in!
Let's flood Japan's key ministers and Tokyo's governor with thousands of messages on social media ahead of the Summit,
to show them that people everywhere want Japan to shut down its ivory trade before the Tokyo 2020 Olympics! 
SEND A MESSAGE
With hope and determination to protect these majestic creatures,
Sarah, Spyro, Rosa, Chris, Bert and the rest of the Avaaz team.
More information:
African Elephant Coalition (AEC): Japan your ivory market (Conservation Action Trust)
https://conservationaction.co.za/recent-news/african-elephant-coalition-aec-japan-your-ivory-market/
Japan wants to attract more European travelers (Deutsche Welle)
https://www.dw.com/en/japan-wants-to-attract-more-european-travelers/a-42518483
One Year Out from 2020 Tokyo Games, NGOs Appeal to Tokyo Governor to End Ivory Trade (Bloomberg)
https://www.bloomberg.com/press-releases/2019-07-25/one-year-out-from-2020-tokyo-games-ngos-appeal-to-tokyo-governor-to-end-ivory-trade

Avaaz is a 51-million-person global campaign network
that works to ensure that the views and values of the world's people shape global decision-making. ("Avaaz" means "voice" or "song" in many languages.) Avaaz members live in every nation of the world; our team is spread across 18 countries on 6 continents and operates in 17 languages. Learn about some of Avaaz's biggest campaigns
here
, or follow us on
Facebook
,
Twitter
, or
Instagram
.
You became a member of the Avaaz movement and started receiving these emails when you signed "
help protect
Papahānaumokuākea
" on 2016-08-01 using the email address
iuri@iurix.com
.
To ensure that Avaaz messages reach your inbox, please add
avaaz@avaaz.org
to your address book. To change your email address, language settings, or other personal information,
contact us
, or simply
go here to unsubscribe
.
To contact Avaaz, please
do not reply to this email.
Instead, write to us at
https://www.avaaz.org/en/contact/?footer
or call us at +1-888-922-8229 (US).
03:34 PM, 31 Jul 2019 by Iuri Sampaio Permalink
Add comment